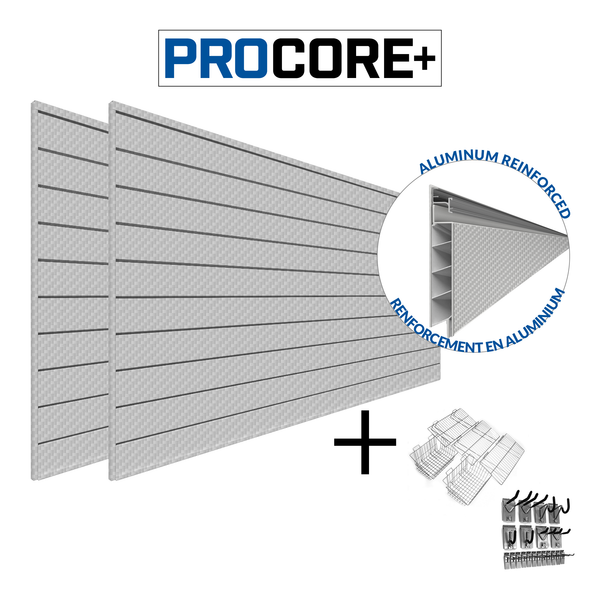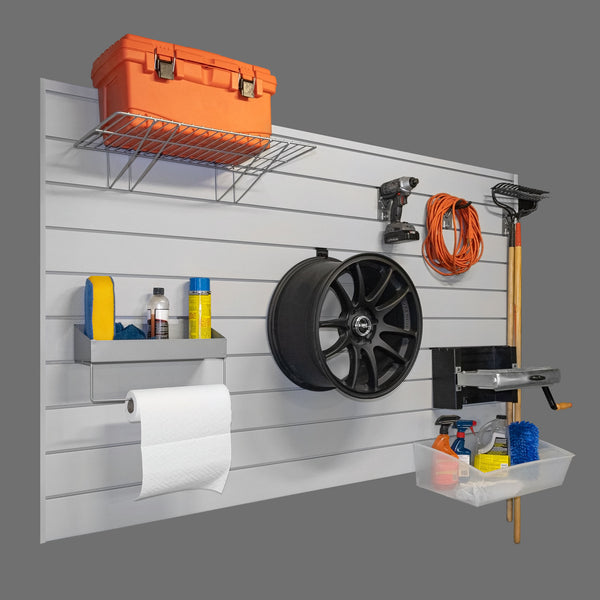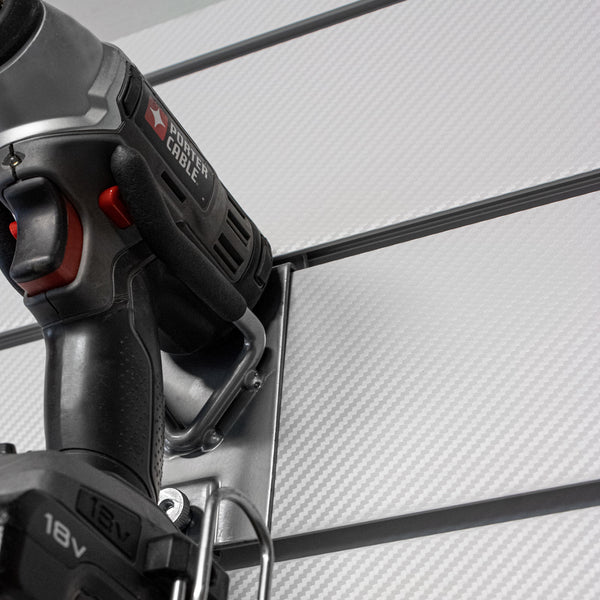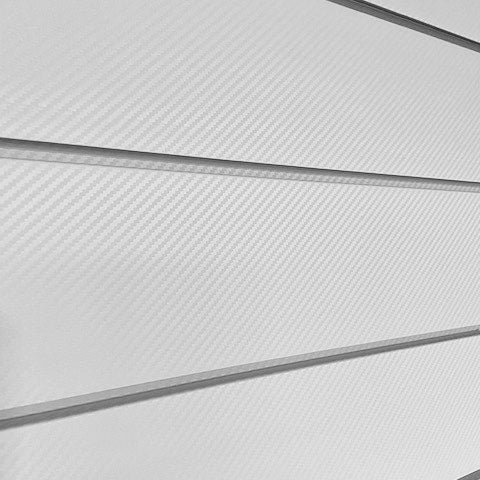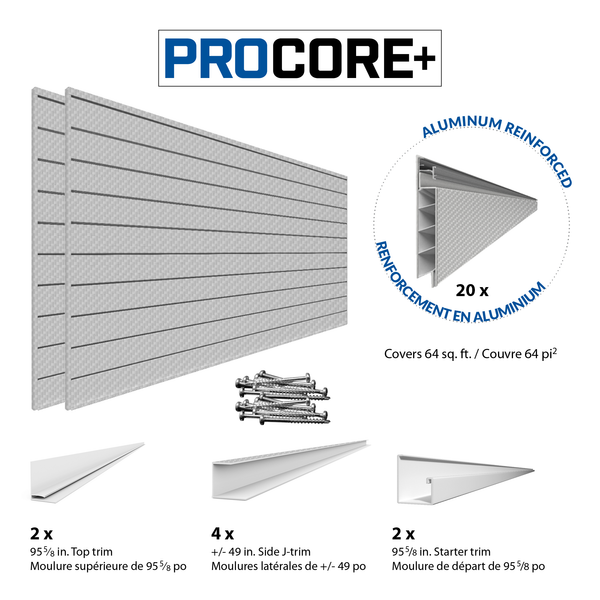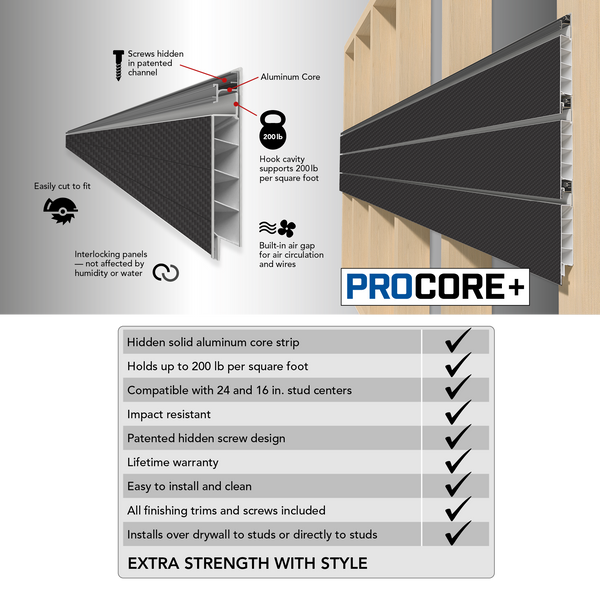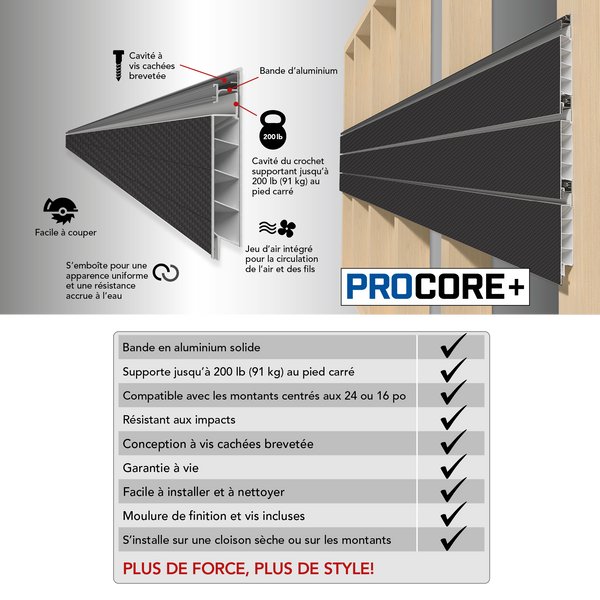 Model #37709K
The Ultimate Bundle is the whole package. This value kit comes with 2 boxes of the PROCORE+ Slatwall, 20 of our most popular hooks, shelves, and baskets. Everything you need to get your space organized.

Introducing our PROCORE+ Carbon Fiber finish Slatwall. The PROCORE+ panel has all of the advantages of our PROCORE Slatwall and combines it with a gorgeous laminated carbon fiber finish. 
The newest member of the Proslat family promises over 2 x the strength of regular Slatwall, at a whopping 200 lb. per square foot. The key to this panel is its aluminum core. This patent-pending design uses PVC only as an aesthetic finish and relies on the aluminum to do the heavy lifting. Now available in a Carbon-Fiber finish.

The PROCORE+ panel will satisfy the needs of customers with 24-inch stud centers while maximizing load strength. Proslat's original panel was designed for 16-inch studs and is still a great option for many homeowners. 


* PROCORE+ Slatwall and PROCORE+ trims cannot be installed in conjunction with the original PVC Slatwall.


*Assembly required
What's included:
2 x PROCORE+ PVC 8 ft. x 4 ft. Slatwall Sections (64 sq. ft.)

Each box contains:

10 Single slats when installed make up 8ft W x 4ft H (32 sq.ft)
1 x Starter trim (c

omes

 in 

white

, and will be concealed once installed)

1 x Top trim

2 x 49 in. Side trims

Hardware and instructions
Accessories:
12 x 4 in. hooks

2 x Double 8 in. hooks

2 x

D

ouble 

4 in. hooks

2 x Heavy duty hooks

2 x U hooks 

 

3 x 24 inch Metal Shelves

2 x 12 inch Metal Baskets

WARNING DO NOT EAT HOOKS!
This product can expose you to chemicals including Di(2-ethylhexyl) phthalate (DEHP), which is known to the State of California to cause cancer and birth defects or other reproductive harm. For more information go to www.p65warnings.ca.gov
Features:
Great all-in-one kit to take back your garage
PROCORE + PVC slatwall holds up to 200 lb. (91 kg) per square foot

Accessories clip into place and can be moved as often as you like
Can be installed on one complete wall or separate sections
Installed directly to studs or over drywall into studs
Easy to clean wipe with damp cloth or if you installed an entire wall, simply hose it down
Can run wires behind the panels to give a clean look
Impact resistant
Lifetime warranty on panels and 10-year warranty on accessories
PROCORE PVC Slatwall and PROCORE trims

cannot

be installed in conjunction with the original PVC Slatwall

Installed dimensions: 16 ft. long by 4 ft. high or 8 ft. long by 8 ft. high
Total coverage: 64 sq.ft. (6 sq. m.)
Capacity per accessory:
4 in. hook: 15 lb. (6.8 kg)
8 in. double hook: 40 lb. (18 kg) 
4 in. double hook: 40 lb. (18 kg) 
Heavy Duty Hook: 50 lb. (22.5 kg) 
U hook: 50 lb. (22.5 kg)

Metal Shelf: 40 lb. (18 kg)
Metal Basket: 40 lb. (18 kg)
Great product, poor order tracking
The Procore product is excellent - high quality, easy to install, beautiful. Just the right amount of flexibility to account for minor wall idiosyncrasies without losing strength. The only suggestion I have for improvement is in order tracking.
I got an email saying "We fulfilled your order 25 days ago" two days before the final piece of my order arrived and I could start work. The shipment was delayed, and I understand that this is inevitable sometimes. But the automated process for getting my response clearly is not integrated into the shipper's tracking system.
Proslat should integrate with Fedex API so that they know when an order is complete. Two advantages:
- Proslat would know if an order had failed to be shipped (which was the case with me) which could trigger a notification for the shipping department to take action.
- Proslat could start its "share your thoughts" timer after the final piece of the shipment had been delivered.