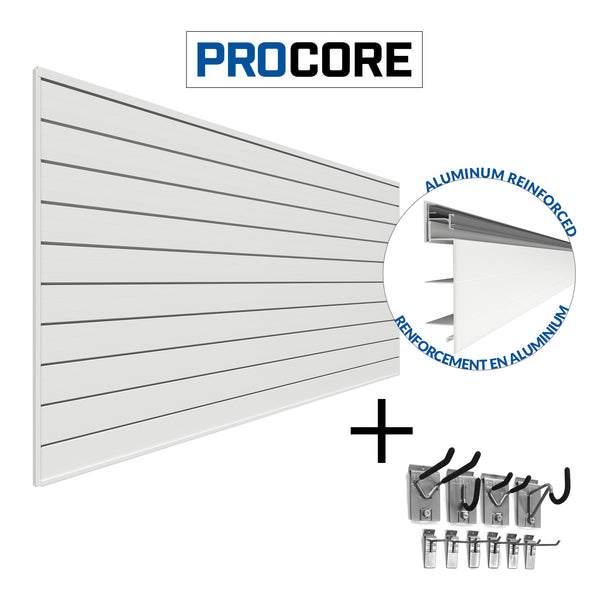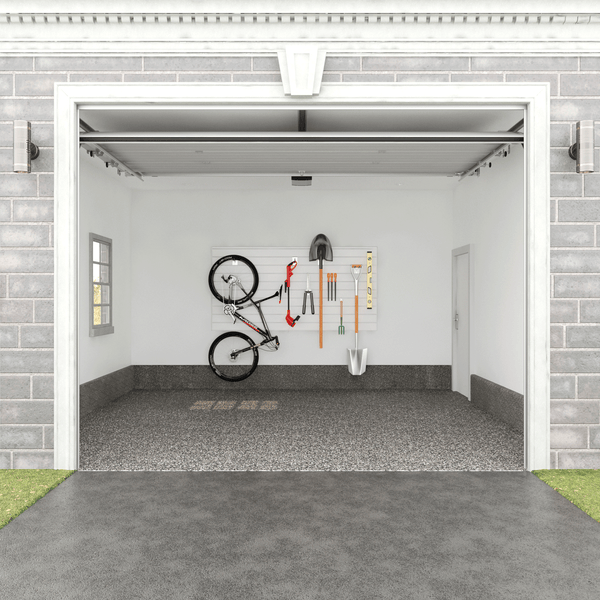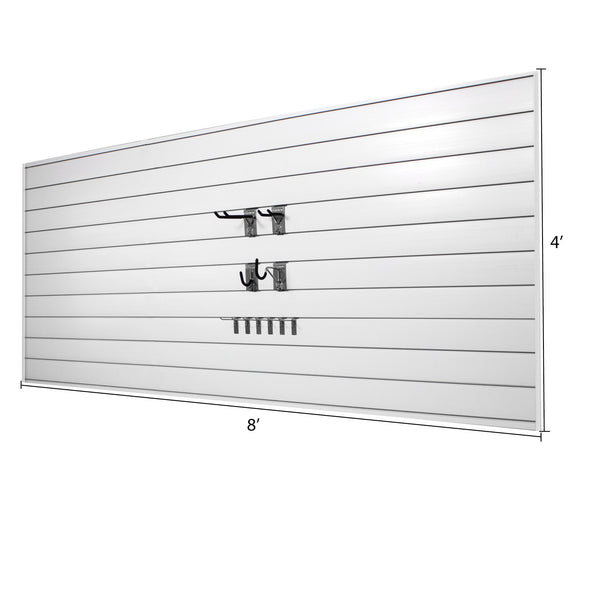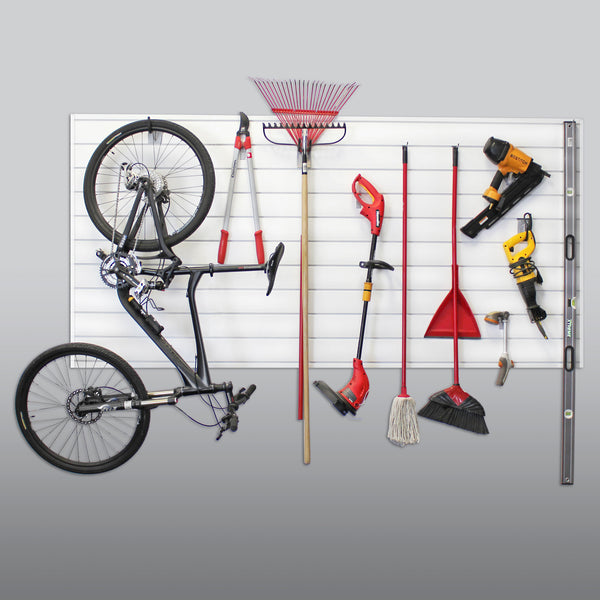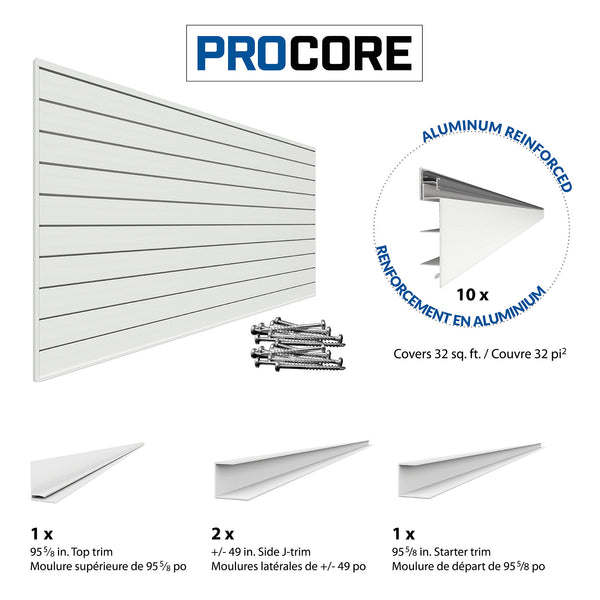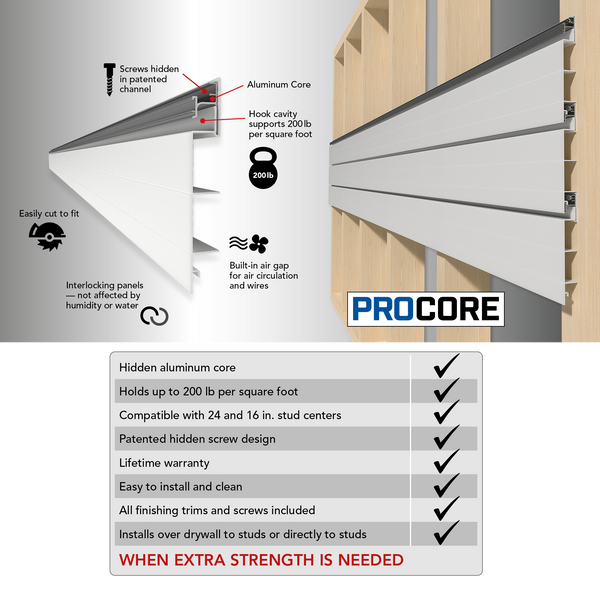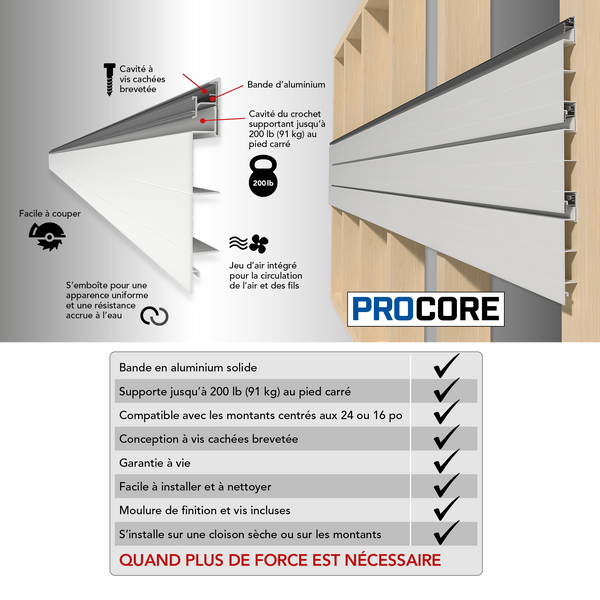 Model # 35006K
The Mini Bundle is the perfect kit to get you started organizing your space, featuring the PROCORE PVC panel.

PROCORE, The newest member of the Proslat family promises over 2 x the strength of regular slatwall. The key to this panel is its aluminum core. This patent pending design uses PVC only as an aesthetic finish and relies on the aluminum to do the heavy lifting. It is not a replacement for the original Proslat PVC panel, but rather an enhancement to the category.
The PROCORE panel will satisfy the needs of customers with 24 inch stud centers while maximizing load strength. Proslat's original panel designed for 16 inch studs is still a great option for many homeowners, its strength is still your best bet economically (holds up to 75 lb per linear foot), however more new builds today are designed with 24 inch studs.


What's included:
1 x PROCORE PVC 8 ft. x 4 ft. Slatwall Section – white (32 sq.ft.):
10 Single slats when installed make up 8ft W x 4ft H (32 sq.ft)

1 x

 

Starter trim

1 x Top trim

2 x 49 in. Side trims

Hardware and instructions.
Accessories:
6 x 4 in. hook (10002)
1 x 8 in. double hook (10010)
1 x 4 in. double hook (10011)
1 x Heavy Duty Hook (10012)
1 x U hook (10017)


Features:
Great all-in-one kit to take back your garage

8 ft. x 4 ft. (32 sq. ft.) includes all required trims and hardware for installation

PROCORE PVC slatwall holds up to 200 lb. (91 kg) per square foot
Accessories clip into place and can be moved as often as you like
Can be installed on one complete wall or separate sections
Installed directly to studs or over drywall into studs
Easy to clean wipe with damp cloth or if you installed an entire wall, simply hose it down
Can run wires behind the panels to give a clean look
Impact resistant
Lifetime warranty on panels and 10-year warranty on accessories

Installed dimensions: 8 ft. long by 4 ft. high
Total coverage: 32 sq.ft. (3 sq. m.)
Capacity per hook:
4 in. hook: 15 lb. (6.8 kg)
8 in. double hook: 40 lb. (18 kg) 
4 in. double hook: 40 lb. (18 kg) 
Heavy Duty Hook: 50 lb. (22.5 kg) 
U hook: 50 lb. (22.5 kg)
Just what I needed
This is just what I needed to get bikes, shovels, ladders, etc. off the floor in the garage. I like the rigidity of the aluminum. As others reviewers mention, the self-drilling screws have some trouble getting started on the aluminum, but work well once the aluminum is pierced. It was helpful to pre-drill with a drill bit to pierce the aluminum before driving the screw. The overlapping design of the panel gives it a really clean look. It helps that it hides the screws because there were a few times where I hit a knot or a nail in the stud and had to re-drill. All these imperfections are hidden by the next panel.
Thank you for your kind review! It means a lot to us and we appreciate you taking the time to share your positive feedback.
Excellent Product, Easy to Install, Cleans up the Garage
This is an excellent product. Tough, sturdy. Easy to install DIY by myself. Had to cut out around outlets which was a breeze but also had to add some framing to support the modified pieces. Plan your install well. I installed on a full wall top to bottom but that wall in my garage was not a perfect rectangle. So make sure you check your levels as instructed. You may have to modify either the first or last piece to fill the wall. Also as the other reviewer said, I also had to pre-drill holes. Not a big fan of the torx screws and bit but they worked. Haven't yet dirtied it so can't tell how easy it is to clean. But hey, it's a garage wall at the end of the day. So far, Overall, this thing is solid. High quality hooks too. Full confidence in the product.
Hi Nathan,
Thank you so much for taking the time to leave us such a great, detailed review. You also have a really good point concerning uneven walls. In these cases we recommend that you measure the off-set and cut the panel that is installed at the very bottom. (Also cut the bottom portion of the panel). We do this, so the track is never cut allowing you to continue the installation as per usual.
Thank you so much!
Proslat Team
Great Product
This was my 2nd purchase of Procore. Ordered online, arrive in 2 days. Very easy to install, looks great and is strong. Found it easy and more accurate to use a sharp drill bit to pre-drill the holes for the mounting screws; the self drill screws tend to slip on the aluminum. Only adds a few minutes to the overall install. Garage looks great!
good bundle
Was straight forward install for a amateur - working as expected....