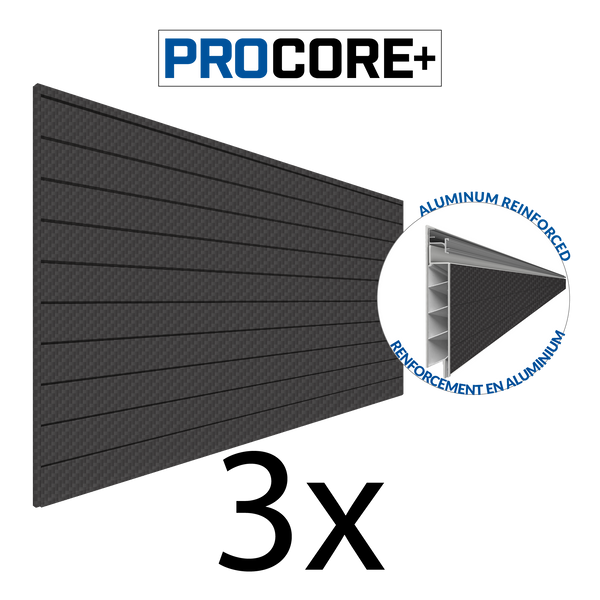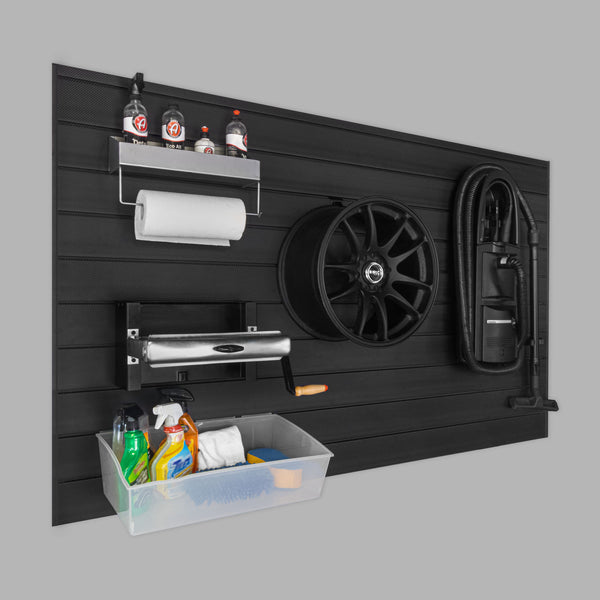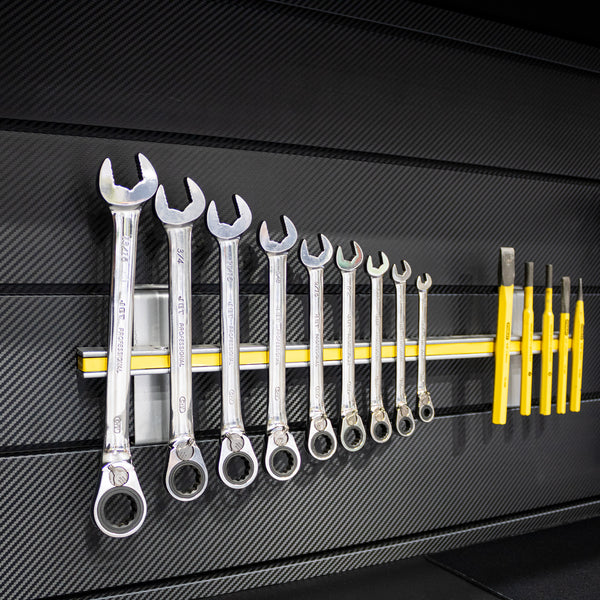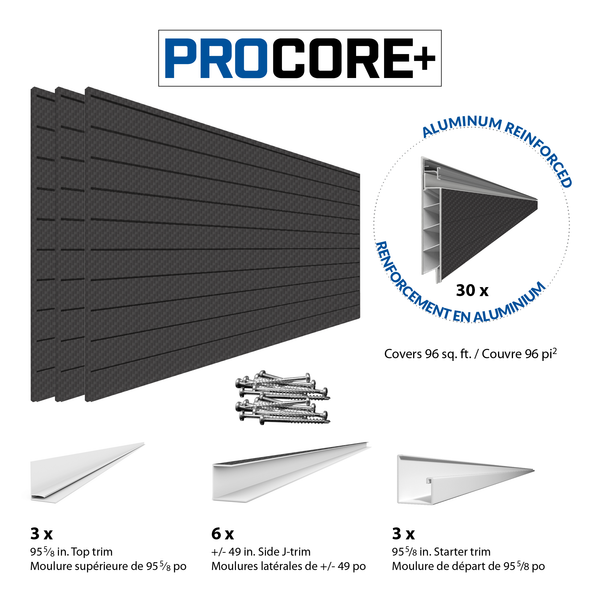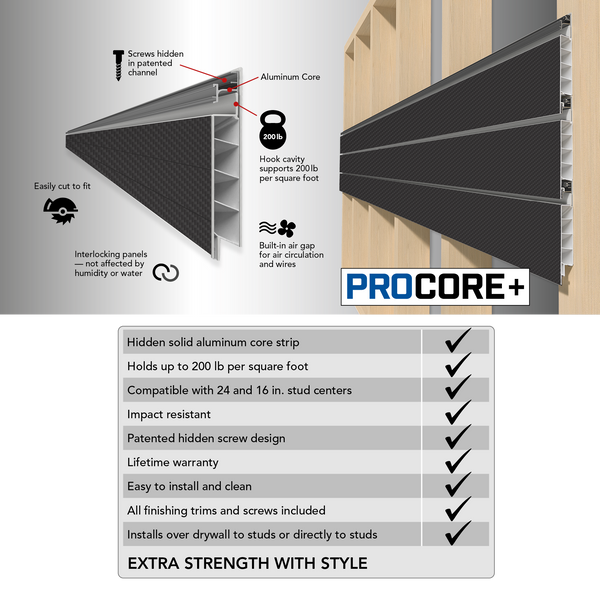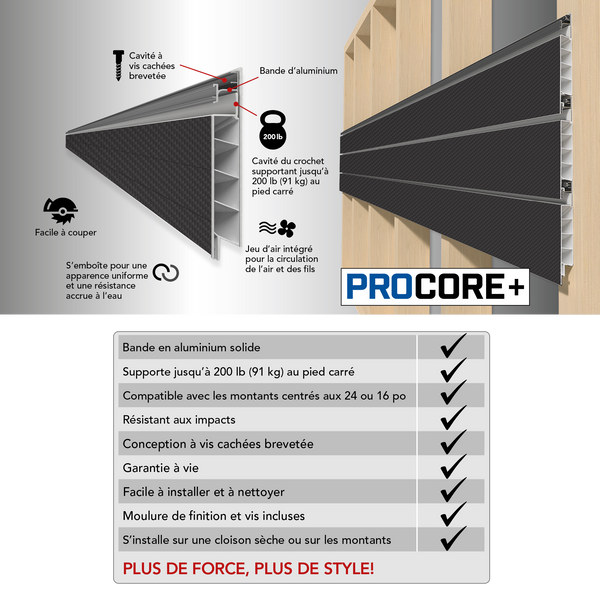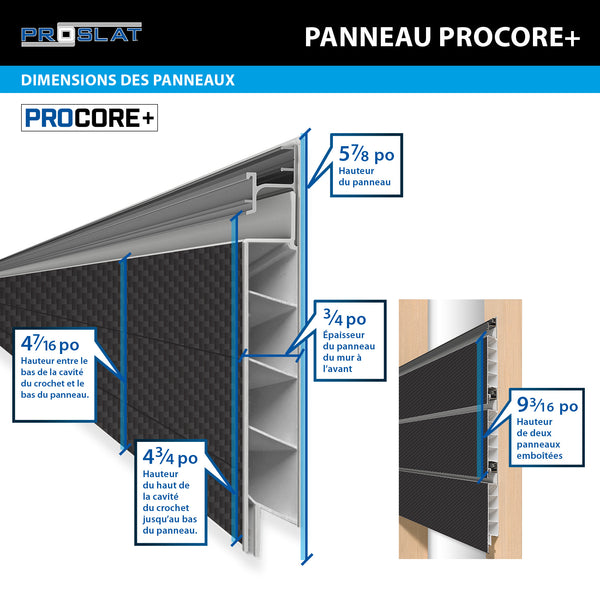 Model #87753K
Introducing our PROCORE+ Carbon Fiber finish Slatwall. The PROCORE + panel has all of the advantages of our PROCORE Slatwall and combines it with a gorgeous laminated carbon fiber finish. 
The newest member of the Proslat family promises over 2 x the strength of regular Slatwall, at a whopping 200 lb. per square foot. The key to this panel is its aluminum core. This patent-pending design uses PVC only as an aesthetic finish and relies on the aluminum to do the heavy lifting. Now available in a Carbon-Fiber finish.

The PROCORE+ panel will satisfy the needs of customers with 24-inch stud centers while maximizing load strength. Proslat's original panel was designed for 16-inch studs and is still a great option for many homeowners. 
* PROCORE+ PVC Slatwall and PROCORE trims cannot be installed in conjunction with the original PVC Slatwall.

*Assembly required
What's included:
 3
 x PROCORE+ PVC 8 ft. x 4 ft. Slatwall Section (96 sq.ft.):
Each box contains :
10 x Single slats when installed make up 8ft W x 4ft H (32 sq.ft)
1 x Starter trim (comes in white, and will be concealed once installed)
1 x Top trim
2 x 49 in. Side trims
Hardware and instructions
Each 8 ft. x 4 ft. (32 sq. ft.) includes all required trims and hardware for installation

Holds up to 200 lb. (91 kg) per square foot
Can be installed over 24 inch stud width
Interlocking panels
Installed directly to studs or over drywall into studs
Easy to clean wipe with damp cloth or if you installed an entire wall, simply hose it down
Can run wires behind the panels to give a clean look
Impact resistant
Lifetime warranty
PROCORE PVC Slatwall and PROCORE trims

cannot

be installed in conjunction with the original PVC Slatwall.
Installed dimensions : 24 ft. long by 4 ft. high
Total coverage: 96 sq.ft. (9 sq. m.)
Carbon pro slat
Looks fantastic! It's a bit delicate though. It's just a vinyl wrap on the pvc. There are a few knicks on the vinyl from install,..not much you can do about it.
Hi John,
Thank you for your review. It is a vinyl finish on PVC. I am curious to see the nicks on the vinyl just to ensure it isn't a shipping issue, or production issue. We are happy to replace any panels that do arrive in less than ideal condition.
Thank you!
Amazing
Fast delivery and great customer service
Super easy to install and looks amazing and can handle the weight