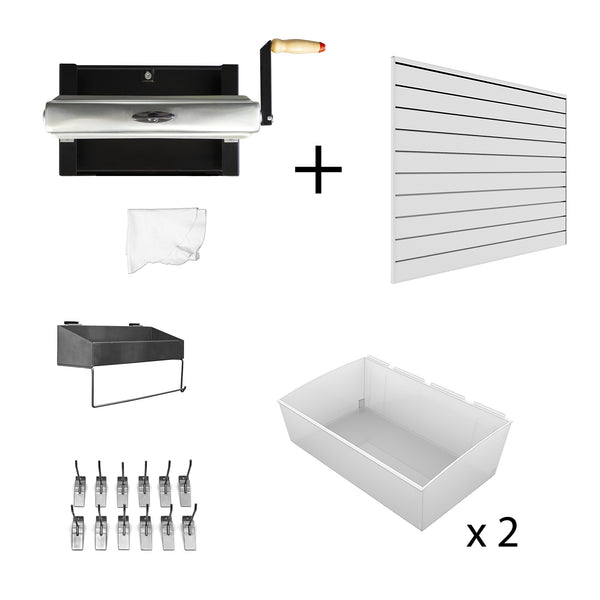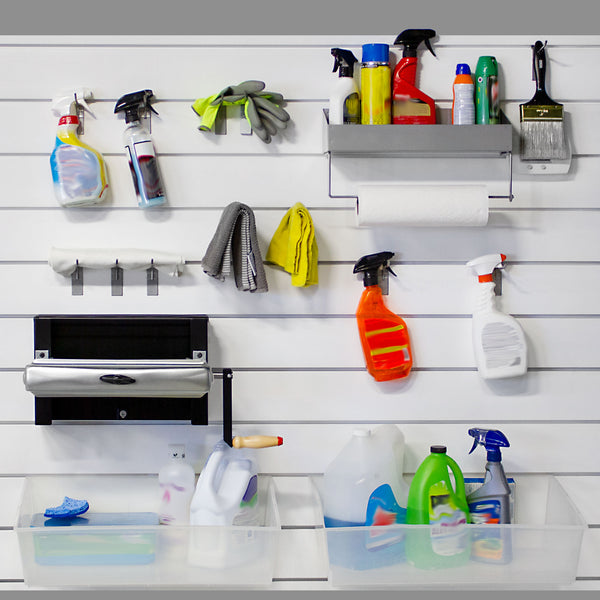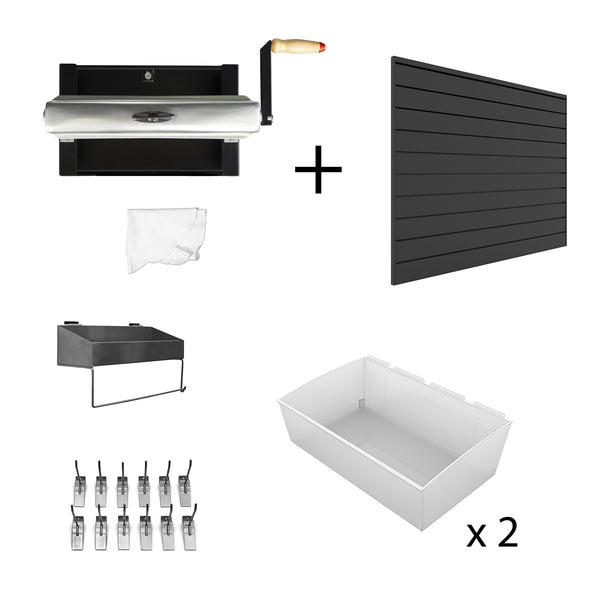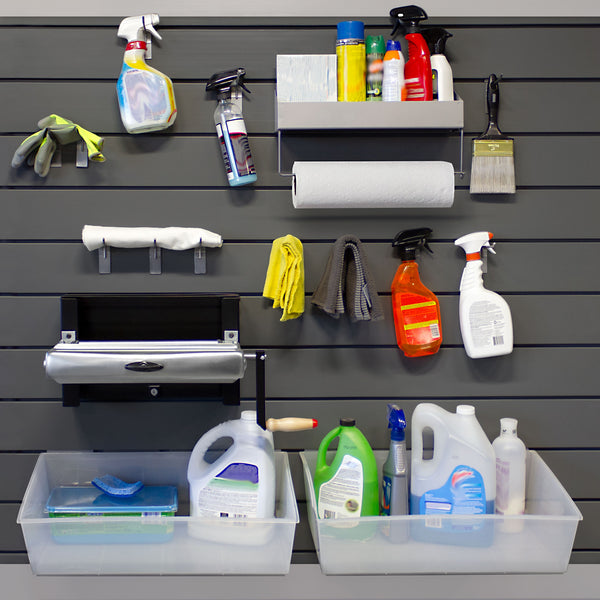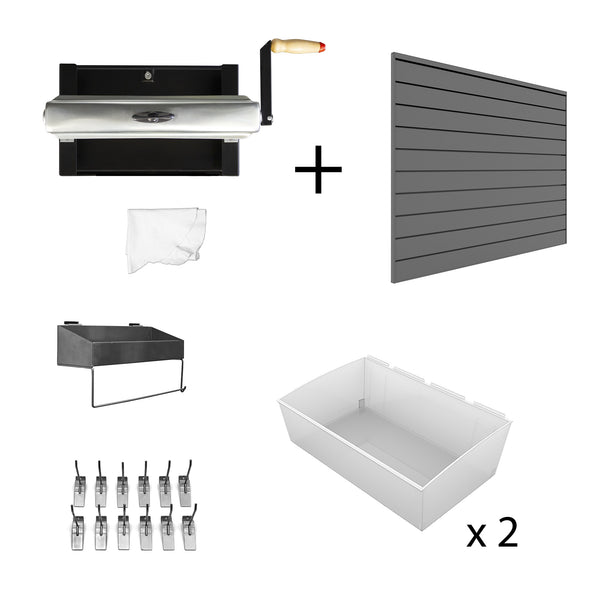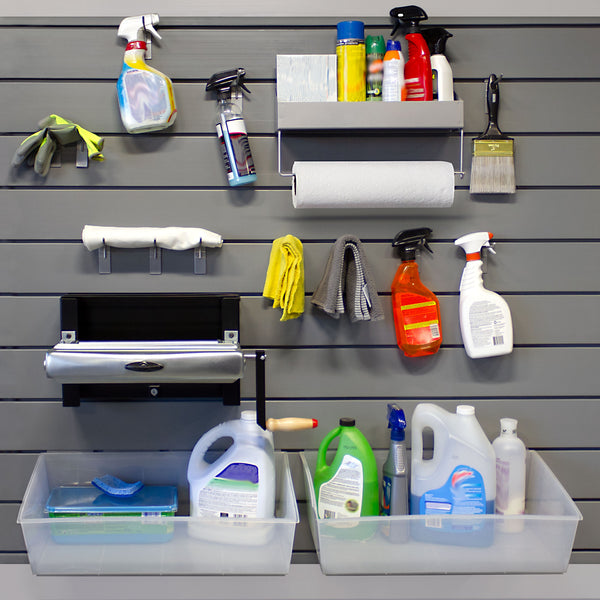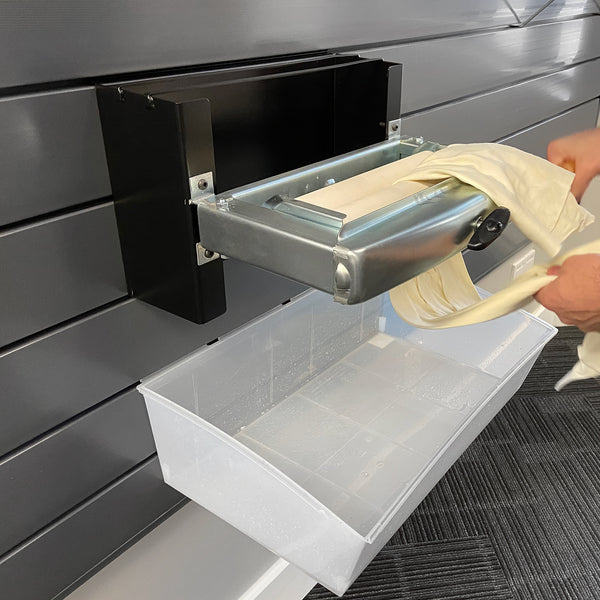 The Car Washing Kit has everything you need for your own personal car washing station at home. The professional grade hand crank wringer is ideal for chamois, towels, and any other fabrics, effortlessly removing 90% of water. Wash the car efficiently and ergonomically by eliminating wringing rags by hand. The Wringer mounts to Proslat Slatwall with a fastener to ensure it stays in place.
This value bundle comes with 4 x 4 ft. slatwall and complementary accessories such as a set of XL Probins, one to keep the floor dry and a second to organize your stuff, a pack of 4-inch single hooks to hang items like rags, and a shelf & paper towel holder for detailing products.

The Wringer is covered by a lifetime warranty and is made in the USA.


*Assembly required
What's included:
10 Single slats when installed make up 4ft W x 4ft H (16 sq.ft)
Towel/Chamois Wringer

1 x Genuine Sheepskin Chamois

1 x 4 x 4 ft. Slatwall
1 x 2-pack XL Probins (03-240-CL)

1 x 12-pack 4 inch single hooks (13002)
1 x Shelf & Paper Towel holder (10029)
Accessory Features:
Accessories fit exclusively on Proslat Slatwall

Ideal for the garage

Easy to hang and clean

Towel Wringer offers a lifetime warranty

Towel Wringer is made in the USA


Wringer dimensions: 21.75 x 14.5 x 9.25 (W x H x D)


Accessory capacities:

4 in. hook: 15 lb. (6.8 kg)
XL Probin: 55 lb. (25 kg)
Shelf & Paper Towel holder: 60 lb. (27 kg)
Slatwall Features:

4 x 4 ft. (16 sq.ft) includes all required trims and hardware for installation
PVC Slatwall holds up to 75 lb. (34 kg) per square foot
Proslat Slatwall is made from 90% recycled materials
Interlocking panels - not affected by mold, mildew, or water
Accessories clip into place and can be moved as often as you like
Installed directly to studs or over drywall into studs
Easy to clean wipe with damp cloth

Can run wires behind the panels to give a clean look
Lifetime warranty
Made in Canada
Great product but….
My shipment was delayed by two weeks because the vendor did not transfer it to the shipper despite telling me they had. Also, one of the packages was short a piece of L trim. They sort of made up for by sending a starter kit of hooks without me asking, but ……
4 ft. x 4 ft. PVC Slatwall
Great product and accessories!
High quality, easy to install and a great mix of accessories to accommodate your organizational needs. Customer service was also outstanding, when I had specific questions and the product was received in a timely fashion. Very impressed!
Hi Tom,
Thank you for your fantastic review! We're thrilled to hear that you found our Proslat system to be of high quality, and easy to install. We take pride in providing excellent customer service, and we're glad to hear that we were able to address your specific questions promptly. Ensuring timely delivery is also a priority for us, so we're delighted that you received your product without delay. Thank you again for your kind words and support. If you ever require further assistance or have more questions, don't hesitate to reach out. We're here to help!
The Proslat Team,
8 ft. x 4 ft. PVC Slatwall