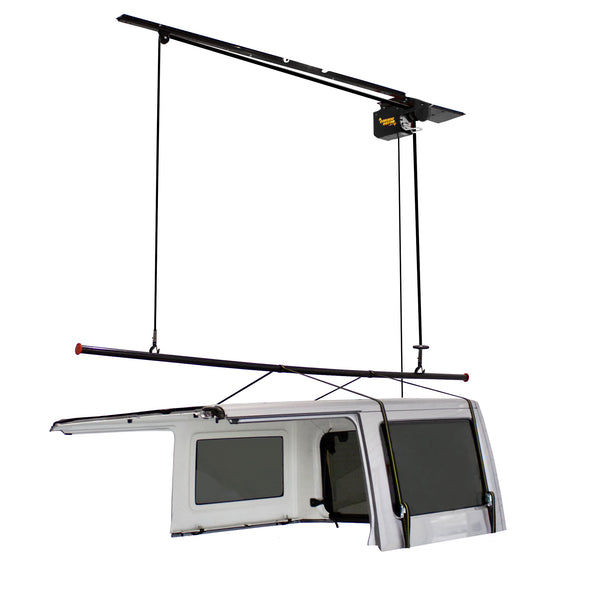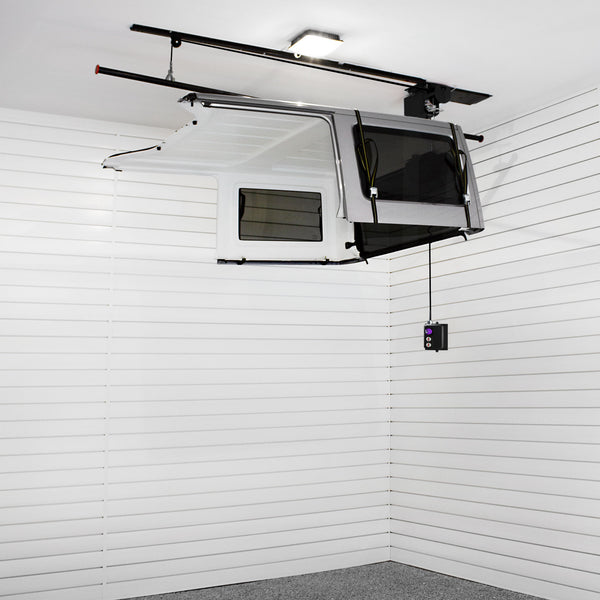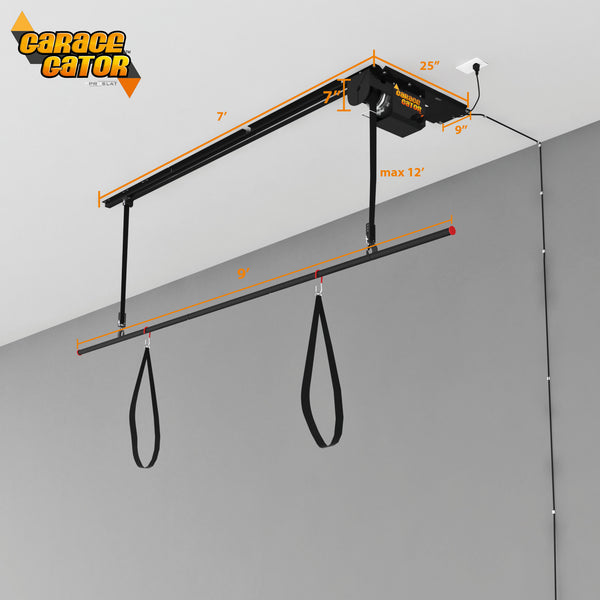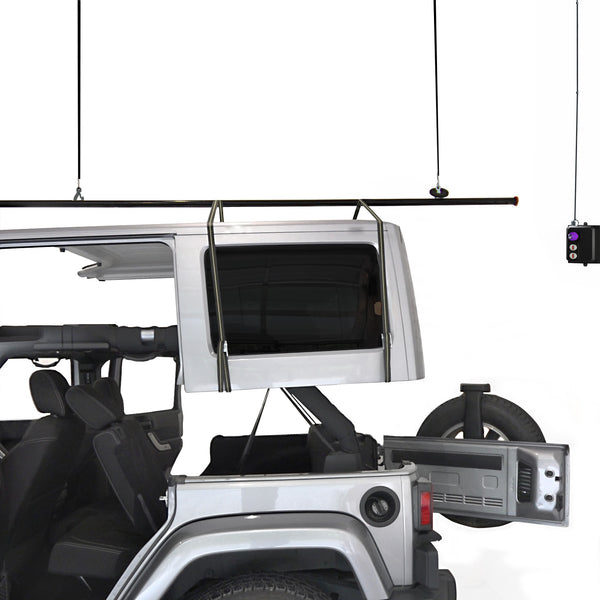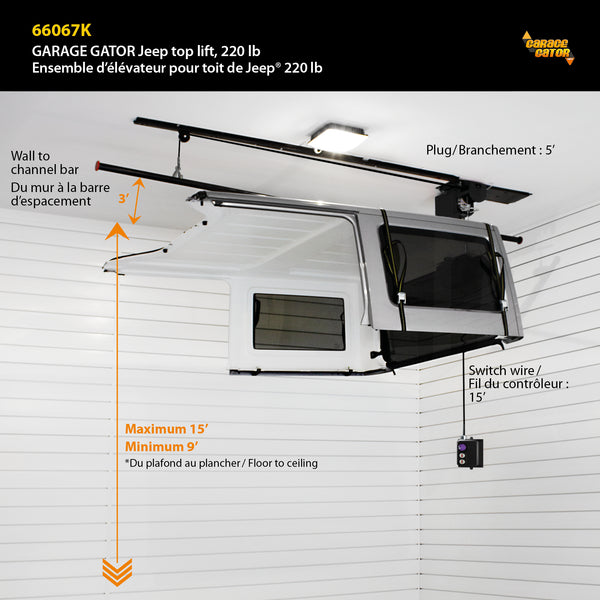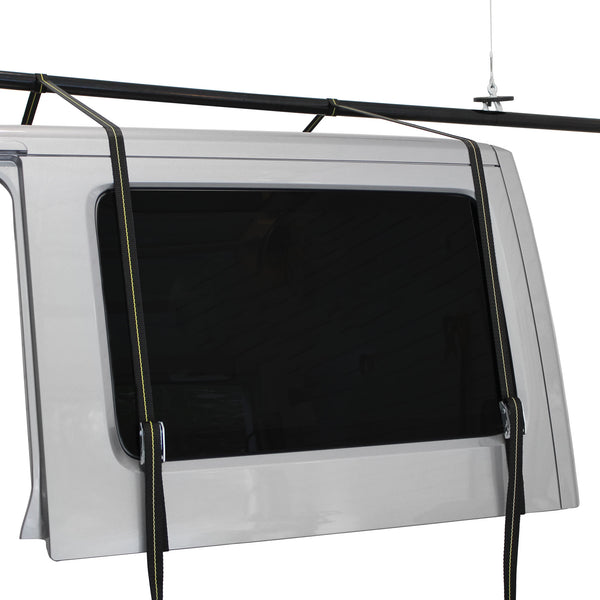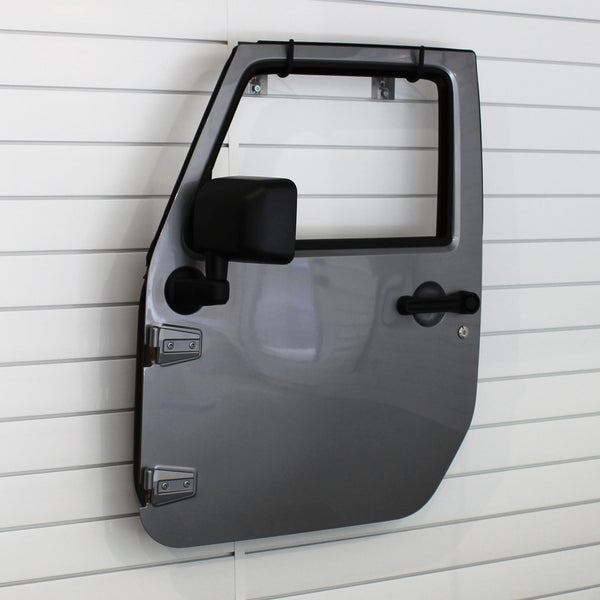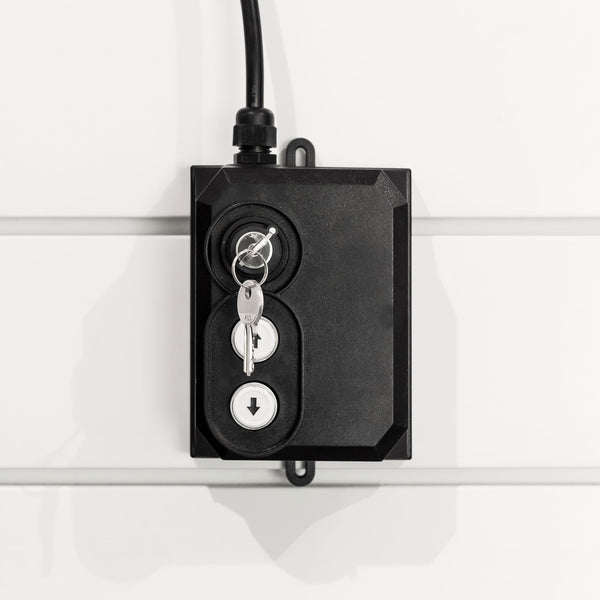 Model #66067K
Jeep hard tops are big, heavy and always in the way. Our new electric lifts make seasonal storage for your hard top a breeze. Simply back your Jeep underneath your lift, attach the straps to the top with the included hardware lift kit, and up & away it goes with the push of a button!
What's included:
Motor mounting plates
Motor hoist
Ceiling mount with channel plate
Jeep Lift kit Straps and hardware to securely lift your hard top
15 ft. push-button wired controller
9 ft. lift/hook bar
8 Storage hooks
Key lock for safety and limited access
Hand control holder hook
Installation hardware
Features:
Weight Capacity: 220 lb.
Bar Width: 9 ft.
Lifting Height: 12 ft.
Lifting Speed: 30 ft./min
Strap Width: 32 mm
Strap Length: 12 ft.
Motor: Electric 460 W 3/5

 

HP
Voltage: 120V/60HZ 3.9 AMPs
Accommodates 9-15 ft. ceilings
Power cord Length: 5 ft. 
Dimensions: 108 W x 12.5 H x 30.5 D in.
Would not recommend.
Given the price point, I would not recommend this product to handle an expensive Jeep top. The hardware is begging to scratch the paint (I spent time wrapping and pool-noodling the buckles). The winch is way too fast. It's full speed up or down, and something will get damaged. The strap connection is cumbersome since you have to lift the top to fit the hardware underneath. There is a questionable bow in the lift rod that's unnerving. It feels like a Princess Auto DYI project. We will only be using it as necessary and not storing the top in the air. Skip this item and spend the extra money on something else. I wish I did.
Hi Tyler, thank you for taking the time to leave us a detailed review about your experience. Our intention is definitely not to damage the equipment you are storing, I apologize for the workarounds you had to do in order to ensure your paint does not scratch. I reviewed this with my product development team to come up with a solution to this problem. We will take the necessary steps to improve this product. Right now we have discussed additional padding for the straps that would come in the box. This could take some time to fully put in place, but it is important to us that we continue to improve not only our product quality but our customer experience.
We have a strap padding prototype that we just approved. Once we receive them we would be more than happy to send you the pack so you can place them on your straps to protect your paint.
Thank you,